Little Brick Cottage…Front Entry From Start to End!
Yay! I cannot tell you how thrilled I am to be able to start this new series…because it means the "Little Brick Cottage" is done! Yep, all done, every single room! So this, part 1 in the series for 'reveals' of the completely renovated antique brick cottage, will feature the front entry and just in case you missed some or all the other posts on the progress I'll try to be as descriptive in this post from the beginning to the end of the renovation, and give you plenty of hyperlinks for you to click to see more details for that subject.
Here's where it all started:
This is the outside entrance to the front door. Remember? This door is an amazing 42 inches wide! We bought this antique brick house at the very end of December, 2011. That's just about 3 months ago, and we've been busy getting it completely renovated.
Now, let's go inside. Here's the view of that same front door looking from the living room back towards the front entry. Before and After!
In the before pic you see the light tan carpet that covered the gorgeous wood floors…well ok, so they weren't so gorgeous at first, but with some sanding and cleaning and fresh coats of stain, oil and finish they're gorgeous now. (I'll talk about the changes in the living room in a later post.)
Here's another before and after pic, only this angle is looking towards the closet door in the front entry, so then the 42" entry door would be on your left.
So how did I take this front entry from the, can I say, dumpy look, to this fresh, welcoming entrance?
Here are the pictorial steps of how we did it:
Dark and dumpy…the carpet and pad are too thick and the front door hardly opens because the bottom of it rubs on the carpet.
Ewww… those wood floors looked nasty. I had such 'stars' in my eyes, I don't think I realized just how awful they looked. I was just so thrilled to find wood floors under the carpet and vinyl we ripped out. And especially finding this original wide oak plank flooring with square nails in the front entry and kitchen, now that was a real treasure to me.
The wood floors were carefully sanded to remove the black tar stuff on them, but not so much to remove the wonderful age. Here's how they look now:
I love, love, love these old floors!
Beadboard installed 5 feet high, with simple top trim and primed. Patching the walls is still needed though. New light fixture installed. (btw: I thought I could just paint the dark brown on the trim and doors without having to prime it….uh, nope! It all needed 3 coats!)
Crack out the caulk. Caulk is my best friend, it covers so many imperfections. Now paint…paint…paint and paint some more. (I'm so glad that I like to paint, or this amount of work would have been pure torture.)
The original closet door with its lovely old ceramic knob, as well as the front entry door, and all the trim in the front entry we were able to keep all in place, just caulked and painted fresh white.
Here's the front door now. I used a few razor blades to clean old paint and caulk and glazing from the glass panels. Then I re-caulked and primed and painted the door.
This doorbell is no longer working, maybe someday I'll get it working again. Someone asked me why I didn't just take it out, but I felt it was so darn cute, I couldn't remove it, even if it no longer worked. It's part of the history of the house.
I purposely did the same colors in this room as you'll see in other parts of the house. Here are my thoughts on that: First, it's a small house so carrying the same theme through the rooms help the space expand. And second, I'm not going to be living in this house, but it is going to be rented, possibly sold, so I had to keep it neutral, (just not boring!). This yellow and gray will allow the new family to accent in practically any color they want…can you imagine reds? Oranges? Blues? Even green? Or black and white? I can see it.
All the hardware that I needed to purchase for this Little Brick Cottage I ordered online from Van Dyke's Restorer's, like these gorgeous hooks that expand the closet space in a very stylish manner.
I love the detail of the wide hat hook and the tall top hook with it.
Well, there it is, the front entry of our little brick cottage. Did I miss any details you'd like to hear more of? I'll be glad to share with you whatever I can about it, just ask.
So where do we go from here? Living room? You've see part of the living room from here so I guess it'd be fun to continue through as if you're actually walking through the cottage…
Enter your email address: Delivered by FeedBurner

Follow My Blog!
Yay!! I've been featured at: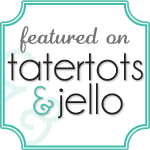 and at:
and at:

I'm linking up at these great parties:
http://www.tipjunkie.com/homemade-projects-43/
http://fadedcharmcottage.blogspot.com/2012/04/white-wednesday-146.html
http://www.uncommondesignsonline.com/2012/04/uncommonly-yours-link-party-22.html
http://thediydreamer.blogspot.com/2012/04/from-dream-to-reality-linky-party-10.html
http://www.bluecricketdesign.net/2012/04/show-and-tell-linking-fun.html
http://savvysouthernstyle.blogspot.com/2012/04/wow-us-wednesdays-60.html
http://lilluna.com/lil-luna-link-party-71/
http://www.sew-much-ado.com/2012/04/we-did-it-wednesday.html
http://www.diybydesign.blogspot.com/2012/04/swing-into-spring-its-party-59.html
http://onechattychic.com/2012/04/03/your-turn-wild-wednesday-5/
http://www.restoreinteriors.blogspot.com/2012/04/restored-it-wednesday.html
http://somedaycrafts.blogspot.com/2012/04/whatever-goes-wednesday-111.html
http://www.blissfulrhythm.blogspot.com/2012/04/home-and-garden-thursday.html
http://www.somewhatsimple.com/blog-link-party-with-saffron-marigold/
http://www.yesterdayontuesday.com/2012/04/crafty-soiree-84-easter-egg-citement.html
http://www.houseofhepworths.com/2012/04/04/hookin-up-with-hoh-94/
http://www.theshabbycreekcottage.com/2012/04/transformation-thursday.html
http://www.the36thavenue.com/2012/04/show-me-extraordinary-49.html
http://frommyfrontporchtoyours.blogspot.com/2012/04/treasure-hunt-thursday-51-highlights.html
http://thecharmofhome.blogspot.com/2012/04/home-sweet-home.html
http://www.atthepicketfence.com/2012/04/inspiration-friday-no-59-and-giveaway.html
http://www.frenchcountrycottage.blogspot.com/2012/04/feathered-nest-friday.html
http://www.redouxinteriors.com/2012/04/friday-feature-party-50-and-mes-preferes/
http://kitchenfunwithmy3sons.blogspot.com/2012/04/kitchen-fun-and-crafty-friday-link.html
http://romantichome.blogspot.com/2012/04/show-and-tell-friday.html
http://www.shabbynest.blogspot.com/2012/04/frugal-friday.html
http://www.fivedaysfiveways.com/2012/04/feature-friday-free-for-all-14.html
http://whipperberry.com/2012/04/friday-flair-link-party-16.html
http://simplydesigning.blogspot.com/2012/04/simply-link-party.html
http://www.stuff-and-nonsense.net/2012/04/fridays-unfolded-60.html
http://www.theroosterandthehen.com/eclectics-the-key-rrr-transformation-party/
http://lollyjaneboutique.blogspot.com/2012/04/sexymodest-boutique-giveaway-wgw-58.html
http://funkyjunkinteriors.blogspot.com/2012/04/sat-nite-special-127-party-ideas.html
http://tatertotsandjello.com/2012/04/weekend-wrap-up-party-and-100-awesome-crafty-prize-pack.html
http://too-much-time.com/2012/04/get-schooled-saturday-17.html
http://www.classyclutter.blogspot.com/2012/04/spotlight-saturday-8.html
http://www.bedifferentactnormal.com/2012/04/show-and-tell-saturday-040712.html
http://www.niftythriftythings.com/2012/04/nifty-thrifty-sunday-52.html
http://www.simplyklassichome.com/2012/04/simply-klassic-sunday-and-few-features.html
http://www.itsoverflowing.com/2012/04/overflowing-with-creativity-16.html
http://www.arosiesweethome.com/2012/04/sunday-round-up-4.html
http://itssoverycheri.com/2012/04/08/its-party-time-4-8-2012/
http://www.iheartnaptime.net/sundae-scoop-link-party-24/
http://www.homemakeronadime.com/2012/04/creative-bloggers-party-hop-54.html
http://my1929charmerblog.com/sundays-best-26-par-tay/
http://embellishinglifeeveryday.blogspot.com/2012/04/link-up-72.html
http://alderberryhill.blogspot.com/2012/04/make-scene-monday-20.html
http://www.serendipityandspice.com/2012/04/manic-monday-linky-party-13.html
http://diyhshp.blogspot.com/2012/04/more-merrier-57.html
http://sumossweetstuff.blogspot.com/2012/04/market-yourself-monday_08.html
http://www.ishouldbemoppingthefloor.com/2012/04/mop-it-up-mondays-11.html
http://www.skiptomylou.org/2012/04/09/made-by-you-monday-94/
http://makingtheworldcuter.com/2012/04/making-the-world-cuter-monday-april-9-2012-2/
http://www.homestoriesatoz.com/2012/04/april-showers-brings-guest-bloggers.html
http://craftomaniac.blogspot.com/2012/04/craft-o-maniac-monday-link-party.html
http://www.polishthestars.com/2012/04/link-party-61.html
http://astrollthrulife.blogspot.com/2012/04/111th-table-top-tuesday-spring-living.html
http://myuncommonsliceofsuburbia.com/2012/04/09/tuesdays-treasures-50/
http://todayscreativeblog.net/creative-project/
http://linda-coastalcharm.blogspot.com/2012/04/nifty-thrifty-tuesday-no109.html
http://kammyskorner.blogspot.com/2012/04/trash-2-treasure-26.html
http://cedarhillranch.blogspot.com/2012/04/cowgirl-up-linky-party-10.html
http://ourdelightfulhome.blogspot.com/2012/04/show-me-what-you-got-linky-party-9.html
http://cheapcraftymama.com/may-house-par-tay/
Posted on April 3, 2012, in Floors, Hardware, Little Brick Cottage, Porch and Entry, Re-purposing, Uncategorized, Wall Treatments and tagged beadboard, closet, farm house style, hooks, paint, renovation. Bookmark the permalink. 46 Comments.